Regular price
Sale price
€9,20 EUR
Unit price
per
Sale
Sold out
Handmade with love

Sustainable & certified

Plant based ingredients
A closer look at the ingredients

Discover the natural goodness in our products here.
Shipping information

Guarantee: 14 day money back guarantee

Free delivery in Latvia for orders over EUR 48.00 and in Europe for orders over EUR 80.00.

Latvia:

We deliver in Latvia through Omniva and DPD parcels and courier. The goods can also be received at the warehouse in Garkalne, Nākotnes iela 30, Ropažu district.
Delivery costs: Parcel - 3.00 EUR, Courier - 8.00 EUR.

Foreign countries:

We deliver to the Baltic States and all countries of the world.
Delivery costs to the Baltic States (Estonia, Lithuania): 5.50 EUR.
Delivery costs to other European countries (outside the Baltic States): from 7.00 EUR.
Delivery costs outside Europe: from 10.00 EUR

We send the goods within 1-3 days! 

More info regarding shipping here.
Have a question?

Don't hesitate to reach out to us for any queries or concerns. For a quick question you can find information at our FAQ here.
For more information contact us using our contact form.
MARUSHA Juniper Nourishing Solid conditioner bar with natural silk and Neem oil.
Conditioner bar for all hair types and for dry, damaged and thick hairs and dry scalp.
Natural and handmade conditioner bar nourishes dry hair and scalp, gives hair shine, strengthens hair roots, promotes hair growth and prevents hair loss.
Conditioner bar contains a lot of nutrients and silk that nourishes the hair, gives the hair shine and volume.
Conditioner bar contains Latvian juniper macerate in highly pressed olive oil, Rosemary and Neem oils, Natural Silk, Cacao and Shea butters, Panthenol. It can be used also as a hair mask.
Suitable for daily hair care. 
If the hair ends are dry, then it is recommended to apply the conditioner on the hair ends in a thicker layer and then rinse it.  Packed in white eco-friendly cardboard box. Handmade in Latvia with locally grown and harvested Juniper berries. 
Conditioner bar p
roperties:
- nourishes and moisturizes hair, hair roots, hair ends,

- gives hair shine, makes hair soft,

- reduces hair loss, prevents hair dryness,

- especially suitable for hiking, travel, business trips,
- after washing, the hair is soft, light, shiny and smells fresh.

It contains Latvian juniper macerate in highly pressed olive oil and Neem oil (promotes hair growth), as well as silk, natural proteins and Panthenol. Lemongrass essential oil strengthens the hair and gives it a fresh aroma. 
A clinical trial published in 2015 suggests that Rosemary oil is just as effective as Minoxidil in preventing hair loss and encouraging new hair growth.  About product ingredients and their benefits please read in section "INGREDIENTS".
Free of SLS, SLSA, PEG, Parabens or other synthetic preservatives, fragrances or colorants.
For better results please use our hair nourishing Juniper Shampoo bar for Dark or Blond hairs.

Usage: Apply it to the hair after shampooing until they glide easily on the fingers. Then rinse. Storage: After use, store at room temperature, dry, for example, on a container / loofah / soap tray where water does not accumulate. Do not expose it to direct sunlight.
Ingredients (INCI): Cetearyl alcohol (and) behentrimonium methosulfate, Cetyl Alcohol, Theobroma Cacao (Cocoa) Butter, Butyrospermum Parkii (Shea) Butter, Juniper berries Infused Olea Europaea (Olive) Fruit Oil, Panthenol, Lactic acid, Dehidroacetic acid, Benzyl alcohol, Rosmarinus Officinalis (Rosemary) Leaf Extract, Aqua, Silk amino acids, Cymbopogon flexuosus oil, Azadirachta indica seed oil, Tocopherol, helianthus annuus seed oil, Citral*, Geraniol*, Isoeugenol*, dl-Citronellol*, Eugenol*, Farnesol*. *- in essential oil.
Share
View full details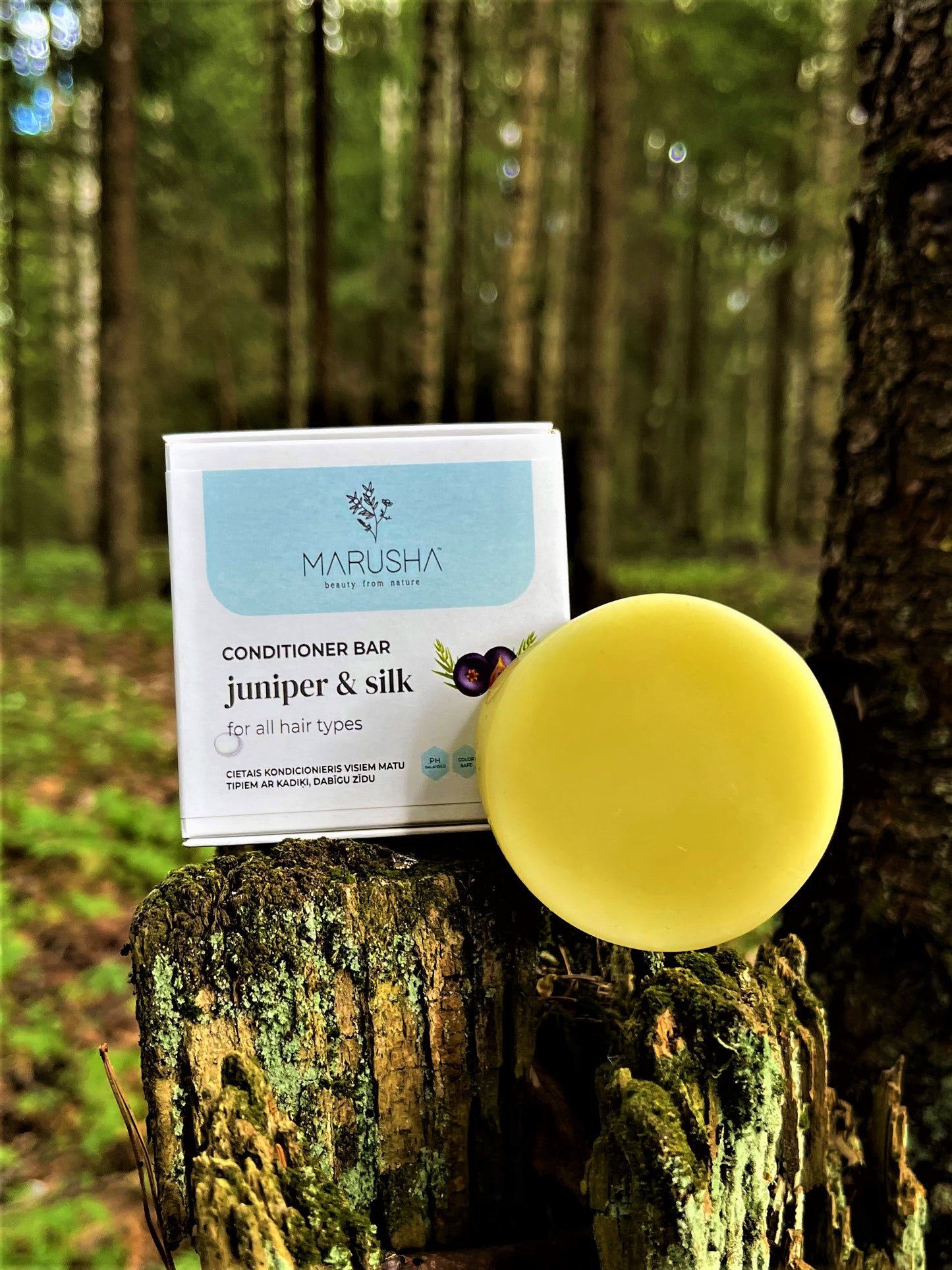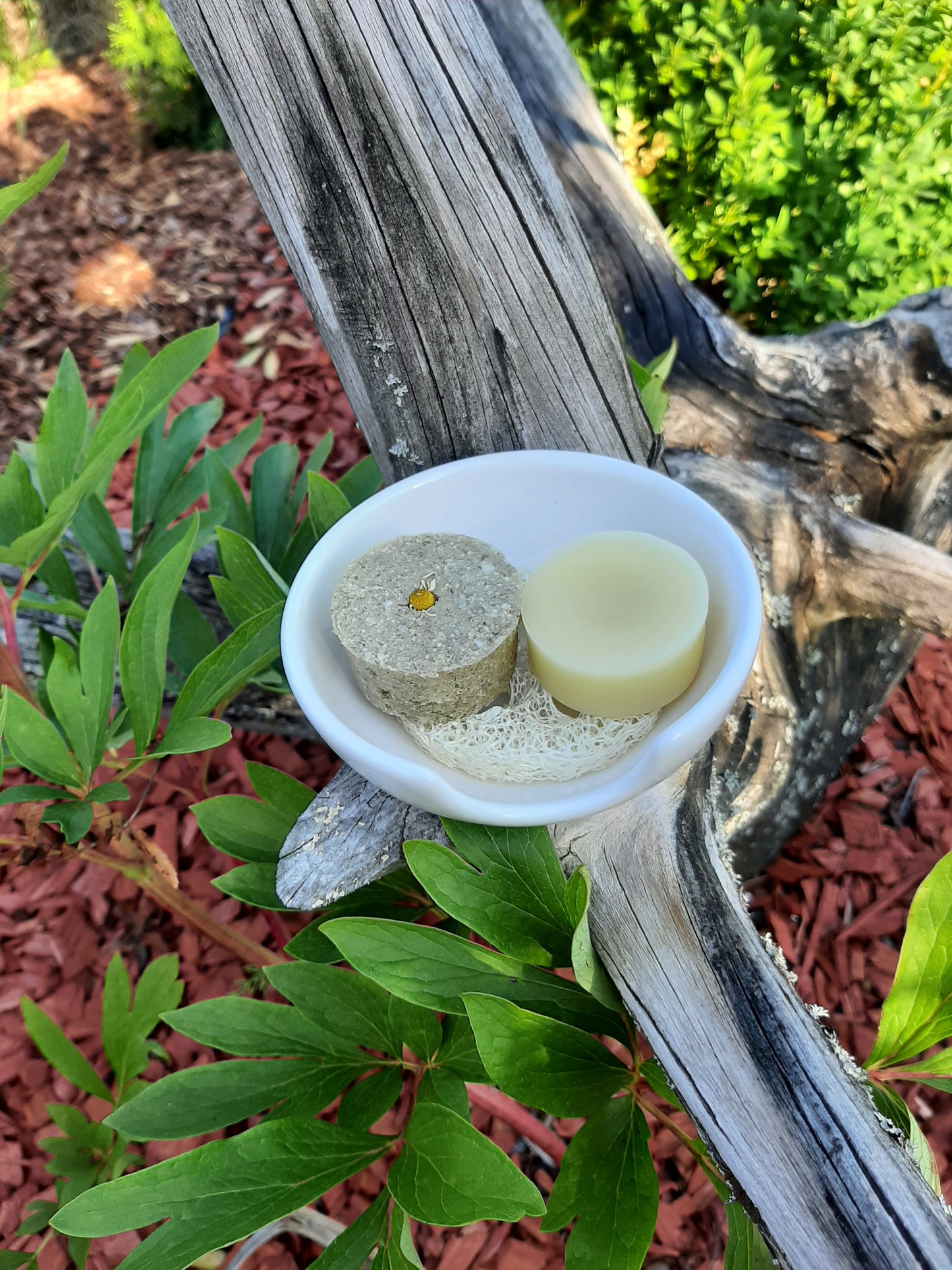 Ļoti ērti lietojams, mati kļūst viegli, nav tā taukainības sajūta, kas paliek pēc parasta kondicioniera lietošanas. Izžūstot mati nespurojas, pat nevajag lietot daudz papildus līdzekļus, lai mati izskatītos labi vairākas dienas(mani mati ir dabiski cirtaini, kuri ilgu laiku tika mocīti ar taisnošanu un balināšanu)
Tas, ka kondicionieris ir dabai draudzīgs(dabiskās izejvielas+neliels iepakojums, maigs neuzkrītošs aromāts)
Crafted with a deep commitment to our core values!
We are using only natural ingredients, ensuring maximum effectiveness, and being completely transparent with our customers.