Regular price
€10,90 EUR
Sale price
€10,70 EUR
Unit price
per
Sale
Sold out
Handmade with love

Sustainable & certified

Plant based ingredients
A closer look at the ingredients

Discover the natural goodness in our products here.
Shipping information

Guarantee: 14 day money back guarantee

Free delivery in Latvia for orders from EUR 35.00 and in Europe for orders from EUR 89.00.

Latvia:

We deliver in Latvia through Omniva and DPD parcels and courier. The goods can also be received at the warehouse in Garkalne, Nākotnes iela 30, Ropažu district.
Delivery costs: Parcel - 2.80 EUR, Courier - 5.00 EUR.

Foreign countries:

We deliver to the Baltic States and all countries of the world.
Delivery costs to the Baltic States (Estonia, Lithuania): 4.50 EUR.
Delivery costs to other European countries (outside the Baltic States): from 7.00 EUR.
Delivery costs outside Europe: from 10.00 EUR

We send the goods within 1-3 days! 

More info regarding shipping here.
Have a question?

Don't hesitate to reach out to us for any queries or concerns. For a quick question you can find information at our FAQ here.
For more information contact us using our contact form.
MARUSHA Rejuvenating Anti-Wrinkle Face Serum with Coenzyme Q10, Rosehip and Broccoli seed oils 
moisturizes, reduces signs of premature aging, fine lines and wrinkles.
Anti-ageing face serum for all skin types & for sensitive, dry skin. Dermatologically tested in Europe.
In Vivo tests of Facial Serum (conducted on 2023):
- 100% of users claimed that product moisturizes and improves appearance of the skin
- 100% of users claimed that product is efficient and spread properly
- 95% of users claimed that product nourishes, revitalize, well absorbs and has a nice scent
- 89% of users claimed that product reduces signs of ageing, fine lines and wrinkles, improves skin color, rejuvenates the skin, reduces signs of premature aging incl. uneven skin tone.
Face serum deeply moisturizes and rejuvenates skin on the face and around the eyes, reduces signs of aging, reduces fine lines and wrinkles.
Serum contains Coenzyme CoQ10, Broccoli Seed Oil, Rosehip Oil, Jojoba oil, Squalane, and other oils, which also provide natural SPF protection from the sun. Handmade in Latvia. 100% natural. 

Face serum properties (accepted in Vivo/Use tests): 
- deeply moisturizes, nourishes, revitalize, rejuvenates face skin and skin around eyes,
- reduces signs of premature aging including fine lines, wrinkles and uneven skin tone,
- gives the effect of lifting the skin around the eyes,
- reduce signs of aging, pigmentation, redness, dullness,
- improves skin color and appearance of the skin,
- increases skin elasticity and skin firmness,
-  reduces fine lines and wrinkles, smoothes fine wrinkles.
Coenzyme Q10 is a powerful antioxidant, promotes the formation of collagen cells in the skin, protects skin surface lipids from oxidative stress accelerated mainly by UVA exposure, and protects the skin against clinical signs of photoaging; it has anti-wrinkle activity and regenerative properties. Q10 increases skin elasticity and firmness.
Scientific studies have shown that CoQ10 has a positive effect on cell renewal processes and allows you to fight against the signs of skin aging at the cellular level, providing a quick and obvious positive result in the appearance of the facial skin.
Broccoli seed oil is positively brimming with skin-friendly, lipid-soluble antioxidants—chief among them, vitamin A. Like the retinol form of vitamin A, broccoli seed oil fights free radical damage and promotes smooth, youthful-looking skin, but without the risk of irritation.
Rosehip oil ensures skin cell and tissue renewal processes, improves skin elasticity, reduces signs of premature aging and pigmentation, helps dry skin and against skin damage caused by the effects of sun radiation.
Facial oils and facial oil serums - their benefits and how to use them (blog article).
MARUSHA Anti-wrinkle Face Serum - Reviews
We offer MARUSHA Gift sets  with Face Serum and Natural Soap (Gift Set Face serum and organic soap ROSE , Gift Set Face serum and organic soap LAVENDER).
More about Coenzyme Q10  - it is a natural skin component that slows down the skin aging process by generating energy for skin cells, protecting them from the harmful effects of free radicals. Q10 helps to reduce wrinkles, fight photoaging and reduce the breakdown of collagen fibers in tissues, leaving skin firmer and more toned. The product significantly improves the appearance of the skin.

How to use MARUSHA Facial Serum: Apply 4-5 drops on the clean skin of the face and around eyes, massage gently until completely absorbed. It is especially recommended to apply it at night to nourish and rejuvenate the skin. 
Storage: Keep it in dry and cool place.
Practical steps how to apply

 face serum/oil on your face:
Before applying serum, make sure

 

your face is clean and dry. Use a gentle cleanser to remove any impurities or makeup residue.
Take

 

a few drops

 

of serum and massage it gently onto your face. Use your fingertips to apply the serum evenly across your

 

face, around eyes and neck.
Once you've applied the serum, let it absorb into your skin for a few minutes before applying anything else. You can also use it for

 

a facial massage, using

 

upward strokes

 

to help relax

 

facial muscles.
If necessary, apply your regular

 

moisturizer

 

after the serum has absorbed into your skin.
For

 

optimal results, use serum on your face

 

daily, preferably

 

before bedtime.
Ingredients (INCI): Sesamum indicum seed oil, Vitis vinifera seed oil, Coco-Caprylate, Squalane, Simmondsia Chinensis (Jojoba) Seed Oil, Persea Gratissima (Avocado) Oil, Rosa canina (Rose hip) seed oil, Brassica Oleracea Italica (Broccoli) Seed Oil, Coenzyme Q10, Hippophae Rhamnoides (Sea Buckthorn) Fruit Oil, Calendula macerate in non-GMO Soja Oil, Glycine soja oil, Aloe barbadensis leaf extract, Rosmarinus officinalis leaf extract, Tocopherol, Citrus aurantium amara flower oil, d-Limonene, Citral.  

Share
View full details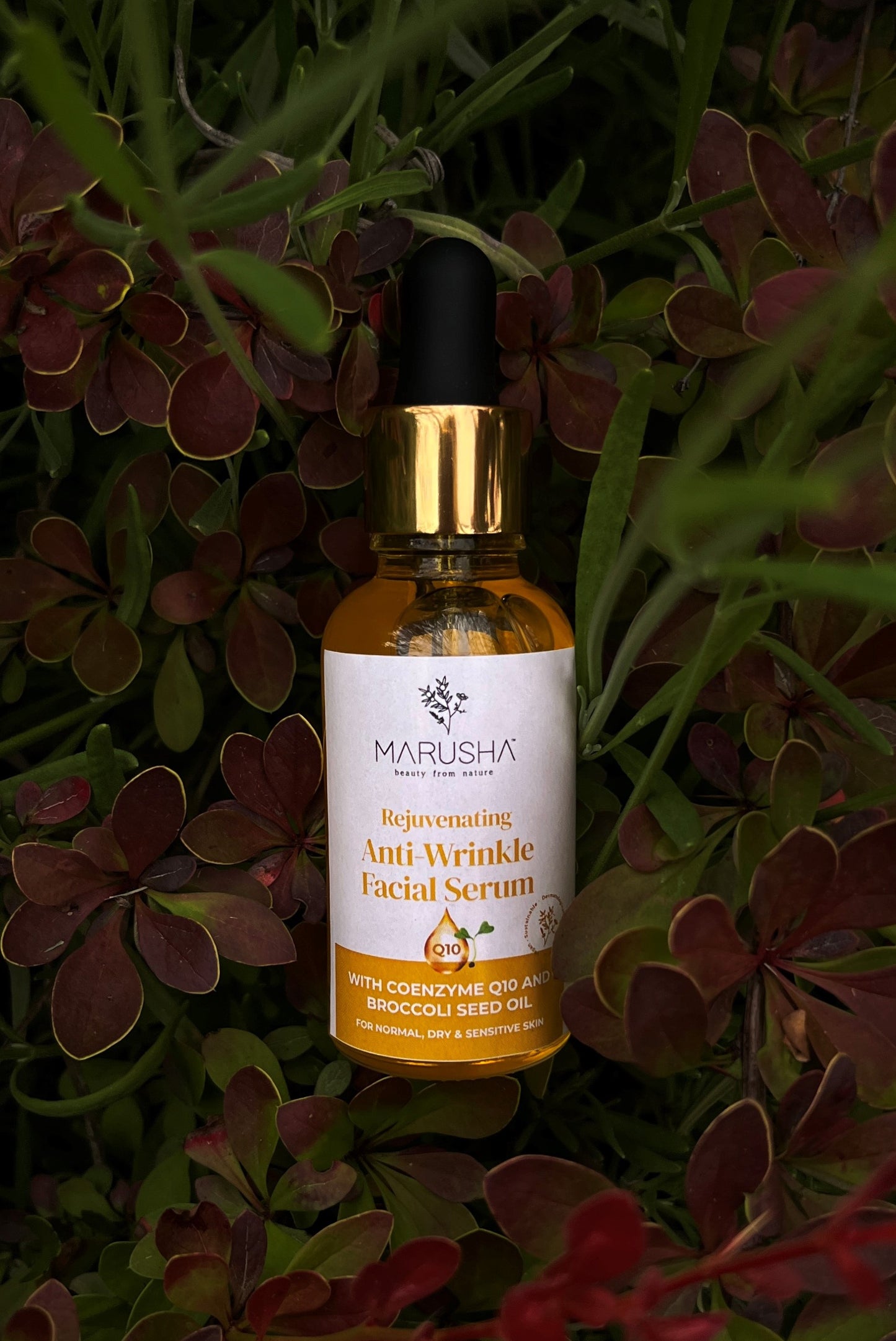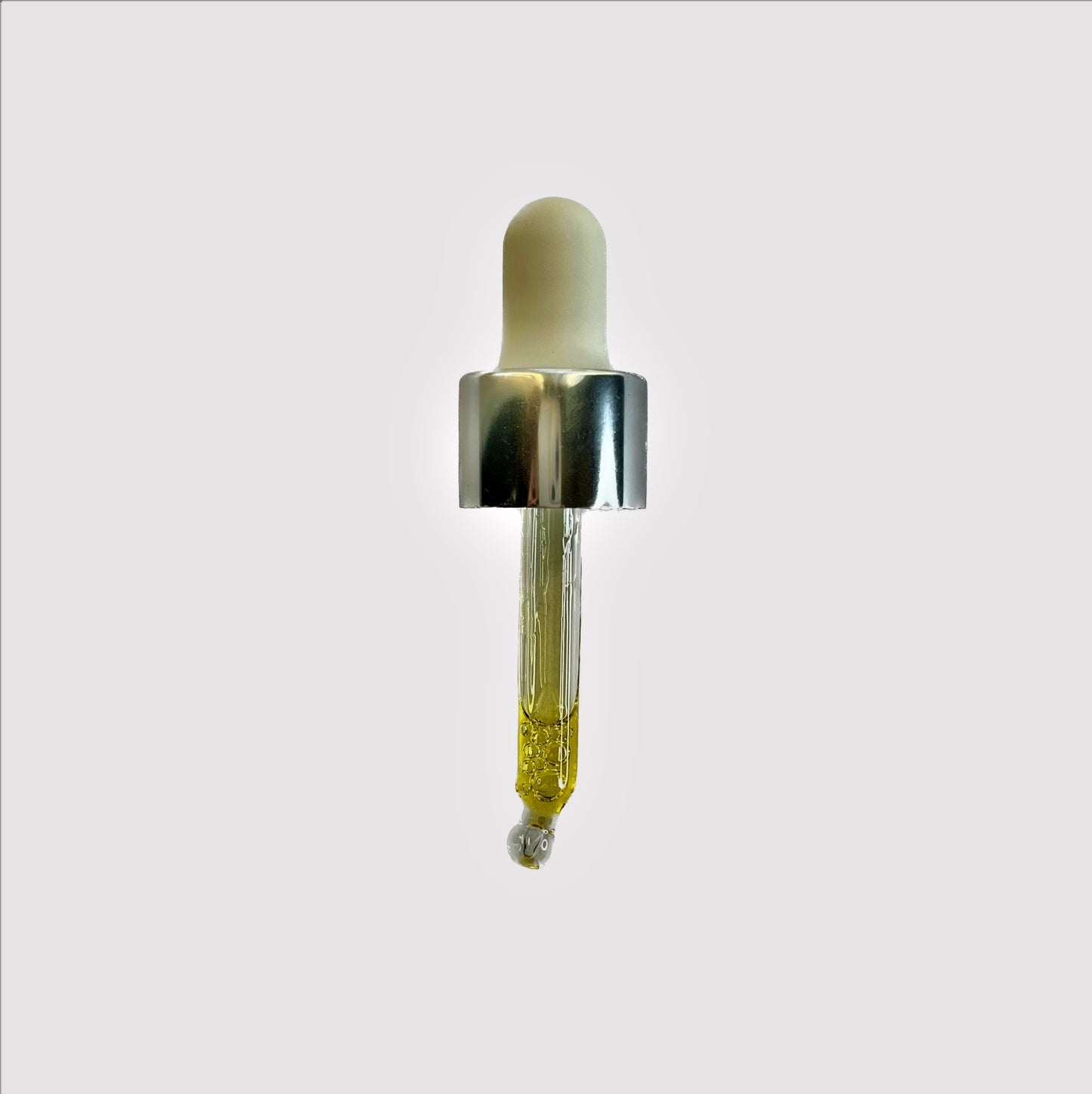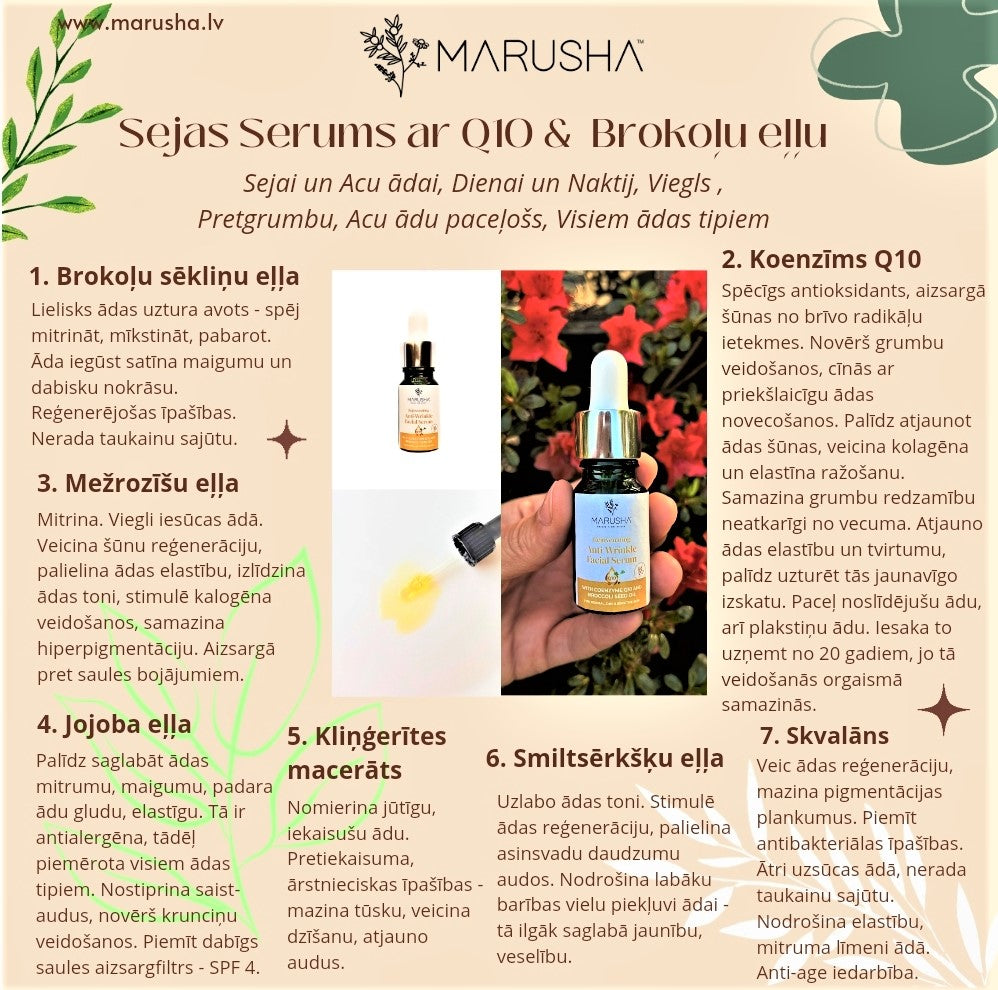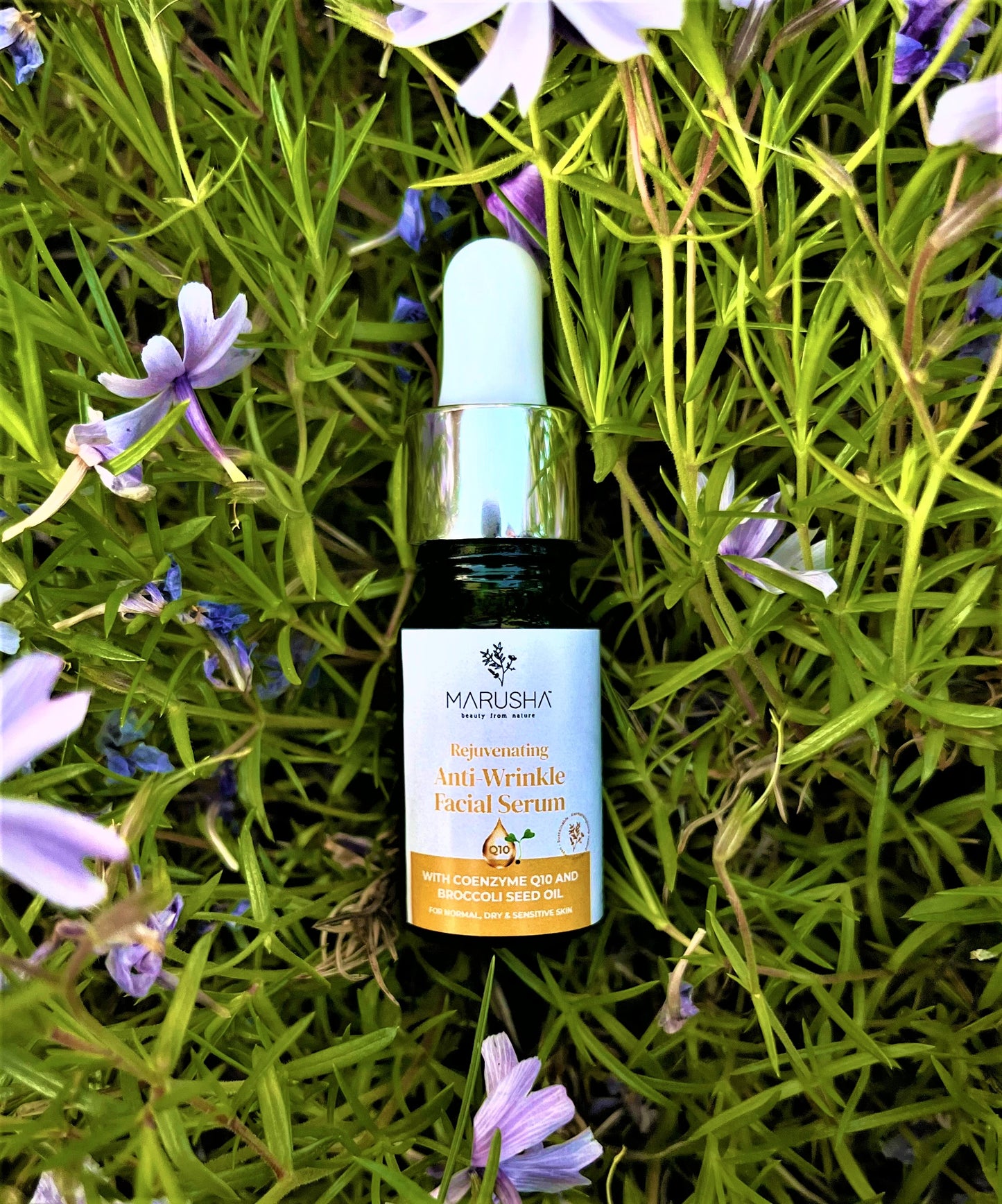 Serums sastāva ziņā ir izcils. Serumu klāju arī naktī, rezultāti lieliski.
Izcils serums
Esmu pastāvīga šī seruma lietotāja. Izlīdzina grumbiņas, maiga āda, patīk smarža.
Klāju serumu vakarā uz nakti. Ļoti patīk, ka seja nav sausa, sevišķi tagad ziemā. Un no rītiem liekas, ka āda ir gludāka. Nav arī taukains. Domāju derēs arī vasarā.
Crafted with a deep commitment to our core values!
We are using only natural ingredients, ensuring maximum effectiveness, and being completely transparent with our customers.