Regular price
Sale price
€9,00 EUR
Unit price
per
Sale
Sold out
Handmade with love

Sustainable & certified

Plant based ingredients
A closer look at the ingredients

Discover the natural goodness in our products here.
Shipping information

Guarantee: 14 day money back guarantee

Free delivery in Latvia for orders from EUR 35.00 and in Europe for orders from EUR 89.00.

Latvia:

We deliver in Latvia through Omniva and DPD parcels and courier. The goods can also be received at the warehouse in Garkalne, Nākotnes iela 30, Ropažu district.
Delivery costs: Parcel - 2.80 EUR, Courier - 5.00 EUR.

Foreign countries:

We deliver to the Baltic States and all countries of the world.
Delivery costs to the Baltic States (Estonia, Lithuania): 4.50 EUR.
Delivery costs to other European countries (outside the Baltic States): from 7.00 EUR.
Delivery costs outside Europe: from 10.00 EUR

We send the goods within 1-3 days! 

More info regarding shipping here.
Have a question?

Don't hesitate to reach out to us for any queries or concerns. For a quick question you can find information at our FAQ here.
For more information contact us using our contact form.
MARUSHA hair strengthening and nourishing natural Shampoo bar
 

for dark and red hair with Juniper extract, Hibiscus and Rosemary.   

Natural and sulfate-free shampoo bar gently washes, strengthens, nourishes and hydrates hair, hair roots and scalp.

Handmade Shampoo bar for oily and dry hairs, damaged hairs, color treated hairs, thinning hairs, for hair growth, hair loss and anti-dandruff. Shampoo bar for men and women.

Shampoo bar without sulfates, SLS, SLSA, PEG, silicones, soap bases, parabens and other synthetic preservatives, synthetic fragrances or dyes.


Eco-friendly, plastic-free shampoo bar for all hair types, for damaged and colored hairs. It contains Juniper berries, Juniper macerate in highly pressed olive oil, Biotin, Hibiscus, Neem oil, Rosemary extract, Red clay, Brahmi (Indian plant), Proteins of different plants, Panthenol and Lemongrass essential oil.

Solid Shampoo bar is suitable for all hair types (normal, oily, dry hairs) and especially for thin, chemically damaged, colored, weakened, brittle or uncontrollable hair. For daily hair care, as well as especially suitable for hiking, travel, business trips. Packed in white eco-friendly cardboard box. 

Handmade in Latvia with locally grown and harvested Juniper berries. 
Shampoo bar properties:
- gently washes hair and scalp,
- nourishes and strengthens hairs and hair roots,
- reduces hair loss, prevents hair dryness,
- after wash hair looks healthy, shiny, soft and thick,
- pH balanced and safe for colour treated hairs.
After wash please use our nourishing Conditioner bar with natural silk.

Shampoo bar without sulfates, SLS, SLSA, PEG, silicones, soap bases, parabens and other synthetic preservatives, synthetic fragrances or dyes.
A clinical trial published in 2015 suggests that Rosemary oil is just as effective as Minoxidil in preventing hair loss and encouraging new hair growth. About product ingredients and their benefits please read in section "INGREDIENTS".
We offer also Solid shampoo bars for Blond hair.
How to use:  Wet your hair and the bar. Slide the bar from root to tip 3-5 times. Then put the bar down and lather shampoo into hair and scalp, enjoy the soft foam for a minute. Then rinse your hair and repeat all the steps once more, if necessary. Leave the bar out to air dry. 
Attention: Avoid contact with eyes. In case of contact with eyes, rinse with plenty of warm water. Storage: Store in the room temperature. After use, the shampoo should be dried, for example, by placing it on a container / loofah / other plate where water does not accumulate. Keep it dry for the next use. Do not expose it to direct sunlight.
Ingredients (INCI): Sodium Cocoyl Isethionate, Sodium coco-sulfate, Cocamidopropyl Betaine, Decyl glucoside, Cetearyl alcohol (and) behentrimonium methosulfate, Theobroma Cacao (Cocoa) Butter, Cetyl Alcohol, Juniper berries Infused Olea Europaea (Olive) Fruit Oil, Citric acid, Panthenol, Hibiscus sabdariffa flower powder, Bacopa monnieri powder, Dehidroacetic acid, Benzyl alcohol, Azadirachta indica seed oil, Rosmarinus Officinalis (Rosemary) Leaf Extract, Montmorillonite, Cymbopogon flexuosus oil, Aqua, Alcohol Denat, Hydrolysed Wheat Protein, Oryza Sativa Extract, Phenetyl Alcohol, Tocopherol, Helianthus annuus seed oil, Proline, Alanine, Serine, Biotin, Citral*, Geraniol*, Isoeugenol*, dl-Citronellol*, Eugenol*, Farnesol*. *- in essential oil.
Share
View full details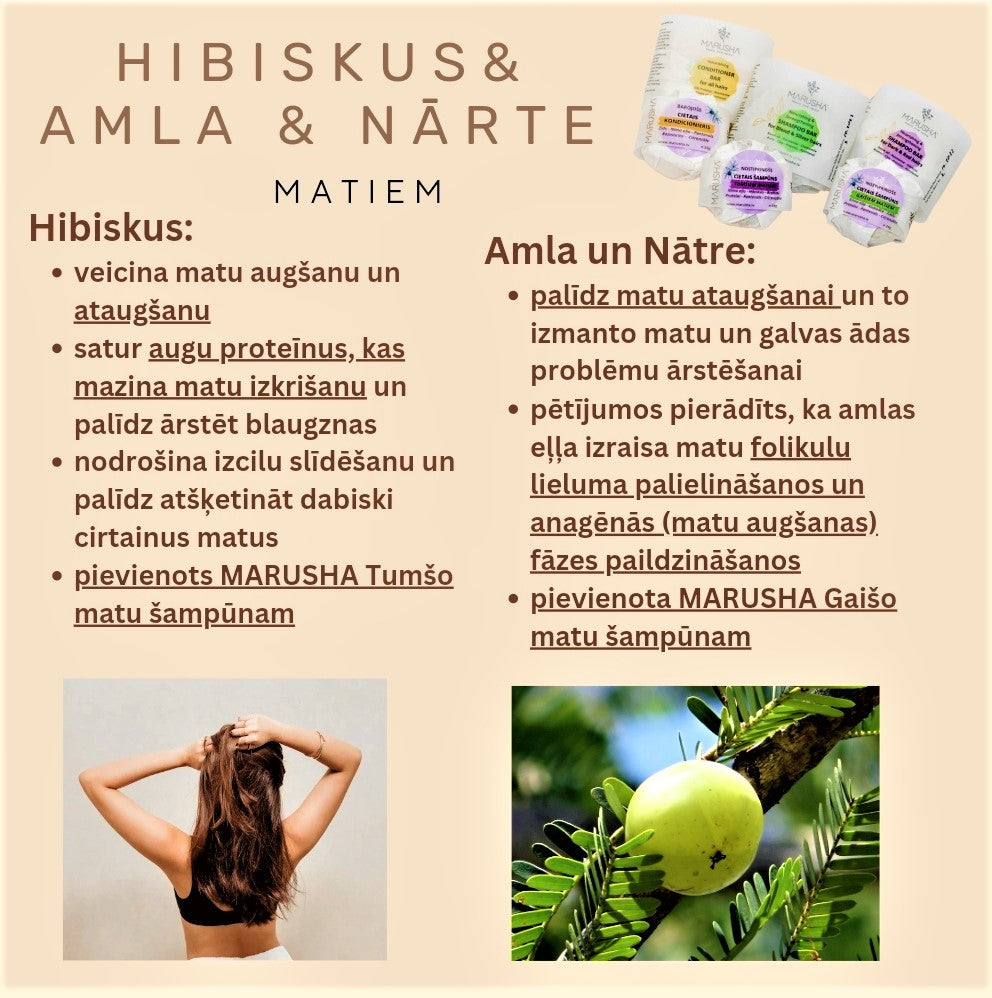 Juniper Solid shampoo bar with Hibiscus for dark and red hairs, 45 g
Lielisks šampūns, pēc kura mati atgūst dabisko mirdzumu. Pirms dažiem gadiem stresa dēļ man sāka mainīties matu struktūra. Paši mati ir lokaini, bet tie zaudēja vijīgumu un kuplumu. Sāku mēģināt dažādus matu kopšanas līdzekļus. Neviens no tradicionālajiem šampūniem (gan lēti, gan dārgi, gan profesionāli, gan masu ražojums) nepalīdzēja atgūt tādus matus, kādi reiz tie bija. Tad nolēmu izmēģināt cietos šampūnus. Vienu iegādājos Krievijā (veidots no dabīgām sastāvdaļām). Tas man ļoti patika. Tad nopirku "Schwarzkopf" cieto šampūnu Vācijā, tas galīgi nepatika, jo neizmazgāja matus, parādījās blaugznas. Un tad uzgāju "Marusha" cieto šampūnu. Jau pēc pirmās mazgāšanas reizes mati atguvās. Tie atkal sāka lokoties, tie mirdzēja un matu gali vairs nebija tik sausi ( izmēģināju arī "Marusha" kondicionieri). Tagad šampūnu lietoju jau vairāk nekā četrus mēnešus. Mati ir zīdaini, šampūns neatstāj smagnēju sajūtu matos, labi puto un izmazgā galvu. Tas ne pēc kā īsti nesmaržo, kas man patīk. Kā arī matus mazgāju retāk, jo galvas āda tik ātri nepaliek taukaina. Lieliski, ka sastāvā nav kaitīgo ķimikāliju. Šis ir produkts, pie kā gribas atgriezties vēl un vēl. Paldies!
Crafted with a deep commitment to our core values!
We are using only natural ingredients, ensuring maximum effectiveness, and being completely transparent with our customers.