Regular price
Sale price
€9,00 EUR
Unit price
per
Sale
Sold out
Handmade with love

Sustainable & certified

Plant based ingredients
A closer look at the ingredients

Discover the natural goodness in our products here.
Shipping information

Guarantee: 14 day money back guarantee

Free delivery in Latvia for orders over EUR 48.00 and in Europe for orders over EUR 80.00.

Latvia:

We deliver in Latvia through Omniva and DPD parcels and courier. The goods can also be received at the warehouse in Garkalne, Nākotnes iela 30, Ropažu district.
Delivery costs: Parcel - 3.00 EUR, Courier - 8.00 EUR.

Foreign countries:

We deliver to the Baltic States and all countries of the world.
Delivery costs to the Baltic States (Estonia, Lithuania): 5.50 EUR.
Delivery costs to other European countries (outside the Baltic States): from 7.00 EUR.
Delivery costs outside Europe: from 10.00 EUR

We send the goods within 1-3 days! 

More info regarding shipping here.
Have a question?

Don't hesitate to reach out to us for any queries or concerns. For a quick question you can find information at our FAQ here.
For more information contact us using our contact form.
MARUSHA Solid shampoo enriched with extracts of Juniper, Rosemary and Chamomile

It thoroughly cleanses, moisturizes and nourishes the hair and scalp with natural vitamins and provides natural volume and plumpness. 

JUniper solid shampoo for gentle and effective daily hair care with lemongrass. The natural composition and healing properties of lemongrass will make hair soft, silky and give it shine, while cleansing, moisturizing and nourishing the hair and scalp.

Economical, natural, hair and scalp-friendly solid shampoo for all hair types, without sulfates and plastic. Eco-friendly packaging, convenient for travel.

Solid shampoo for all hair types, oily, dry, thin and fragile hair and dry scalp. Also works as an anti-dandruff shampoo thanks to the added Neem oil.
 
A natural solid shampoo with a balanced pH level. Ensures slower greasing of hair.

Suitable for all hair types for daily use - dyed and undyed hair, light and blonde hair, gray and colored light hair.

Created and produced in Latvia from Latvian plants (juniper, nettle, chamomile). Handmade.

Marusha's range of natural hair care products also includes solid shampoos for dark hair.


Composition of Juniper and Chamomile solid shampoo
The natural cocoa butter, olive oil, neem oil, chamomile, rosemary, lemongrass oil, B5 and E vitamins contained in the shampoo will provide a moisturizing and nourishing effect to both hair and scalp. Hair will be strengthened throughout its length, gaining strength and shine.
The shampoo contains hair-nourishing, strengthening, growth-promoting Latvian plants (juniper) and plant macerates, which provide nutrients and minerals necessary for hair growth.
Also added Biotin (stimulates hair growth), Neem oil and Indian plant Amla (for hair growth and healthy scalp, prevents dandruff), Rosemary extract (promotes hair growth) as well as chamomile, nettle, natural clay, natural plant proteins and Panthenol (provides moisture to the hair).
The shampoo does not contain SLS, SLSA, PEG and other silicones, soaps, parabens and other synthetic preservatives, synthetic fragrances or dyes.
Read more about the product's natural ingredients and their importance in the "INGREDIENTS" section of our website.

Added Lemongrass essential oil to strengthen hair and promote hair growth, as well as added conditioning ingredients to nourish hair and prevent hair, ends and scalp dryness.
Solid bar good shampoo properties

Perfectly washes hair and scalp, gives hair shine, plumpness, vitality
Nourishes hair and hair roots, prevents hair and scalp dryness and split ends
Restores and strengthens the hair's outer cuticle and hair roots
Reduces hair greasiness and dandruff formation
Reduces hair loss, promotes hair growth
It foams well and washes off dirt well, does not irritate the scalp
Gentle pH level, safe for colored hair
Hair after washing is light, soft, plump, shiny and smells fresh. It is recommended to be used together with MARUSHA Solid Conditioner, which nourishes the hair and ends of the hair and serves as a hair mask at the same time.

The shampoo is ideal for taking with you on hikes, trips, business trips. It is packed in a white cardboard, eco-friendly box. If you plan to take the shampoo with you on a further trip, it is recommended to buy it with an aluminum can.

Reviews: MARUSHA Solid shampoos for hair growth
Clinical studies conducted in 2015 (published in PubMed) show that Rosemary oil is as effective as Minoxidil in promoting new hair growth and preventing hair loss. Neem oil, on the other hand, provides a healthy scalp, which is an important condition for healthy and strong hair growth, and prevents the formation of dandruff.

"Because my hair is thin and light, I have to wash it every day. If I'm on the go, these solid Marushas shampoo and conditioner are both very light and take up very little space. Wrapped in white paper, both products have a very pleasant lemongrass aroma and an anatomically correct shape that fits comfortably in the palm of your hand. From the beginning, I soaped my hair with shampoo, rinsed it. Then I rubbed in the dry conditioner, left it on for 2 minutes and rinsed it off. The hair was washed very clean, and the conditioner has a surprisingly good effect, the hair did not frizz, it became smooth and easy to comb." - Aija, 22 years old.

"I really liked the refreshing and invigorating lemongrass aroma of the hard shampoo! It evokes positive emotions and improves the mood, makes you feel like you are in a SPA procedure! The solid shampoo lathers very well, despite the fact that it does not contain SLS, SLSA and other chemicals. Both the hard shampoo and the conditioner fit very well in the hand, which makes use very comfortable even for owners of long hair. The only thing that was missing was more convenient packaging, a box where these products can be conveniently stored. I was very pleased with the effect after washing my hair the first time! Shiny, smooth, light and airy hair, pleasant to the touch! MMM... And that great fragrance! Even after washing, the hair smelled pleasant for a long time." - Indra, 32 years old.

Use of solid shampoo
Wet your hair thoroughly and apply the shampoo in circular motions until it foams enough (as much as you need). Then massage the foam into the hair, scalp and then rinse.
Before using solid shampoo and solid conditioner, we recommend applying MARUSHA Rosemary and Neem hair oil with clinical research proven effectiveness in promoting hair growth, which also nourishes and moisturizes hair, hair ends and scalp.
Caution: Avoid getting the shampoo into the eyes. If it gets into the eyes, rinse immediately with plenty of water. Storage: after use, dry the shampoo, for example by placing it on a dish/loofah/other pad where water does not accumulate.
Storage: Store solid shampoo at room temperature, dry until next use. Do not keep it in direct sunlight.



Ingredients (INCI): Sodium Cocoyl Isethionate, Sodium coco-sulfate, Cocamidopropyl Betaine, Decyl glucoside, Cetearyl alcohol (and) behentrimonium methosulfate, Theobroma Cacao (Cocoa) Butter, Cetyl Alcohol, Juniper berries Infused Olea Europaea (Olive) Fruit Oil, Citric acid, Panthenol, Urtica dioica leaf, Montmorillonite, Emblica officinalis fruit powder, Dehydroacetic acid, Benzyl alcohol, Azadirachta indica seed oil, Rosmarinus Officinalis (Rosemary) Leaf Extract, Cymbopogon flexuosus oil, atricaria Recutita (Chamomile) Flowers, Aqua, Alcohol Denat, Hydrolysed Wheat Protein, Oryza Sativa Extract, Phenetyl Alcohol, Tocopherol, Helianthus annuus seed oil, Proline, Alanine, Serine, Biotin, Citral*, Geraniol*, Isoeugenol*, dl-Citronellol*, Eugenol*, Farnesol*. *- in essential oil.



Interesting articles about solid shampoos on our blog:

Share
View full details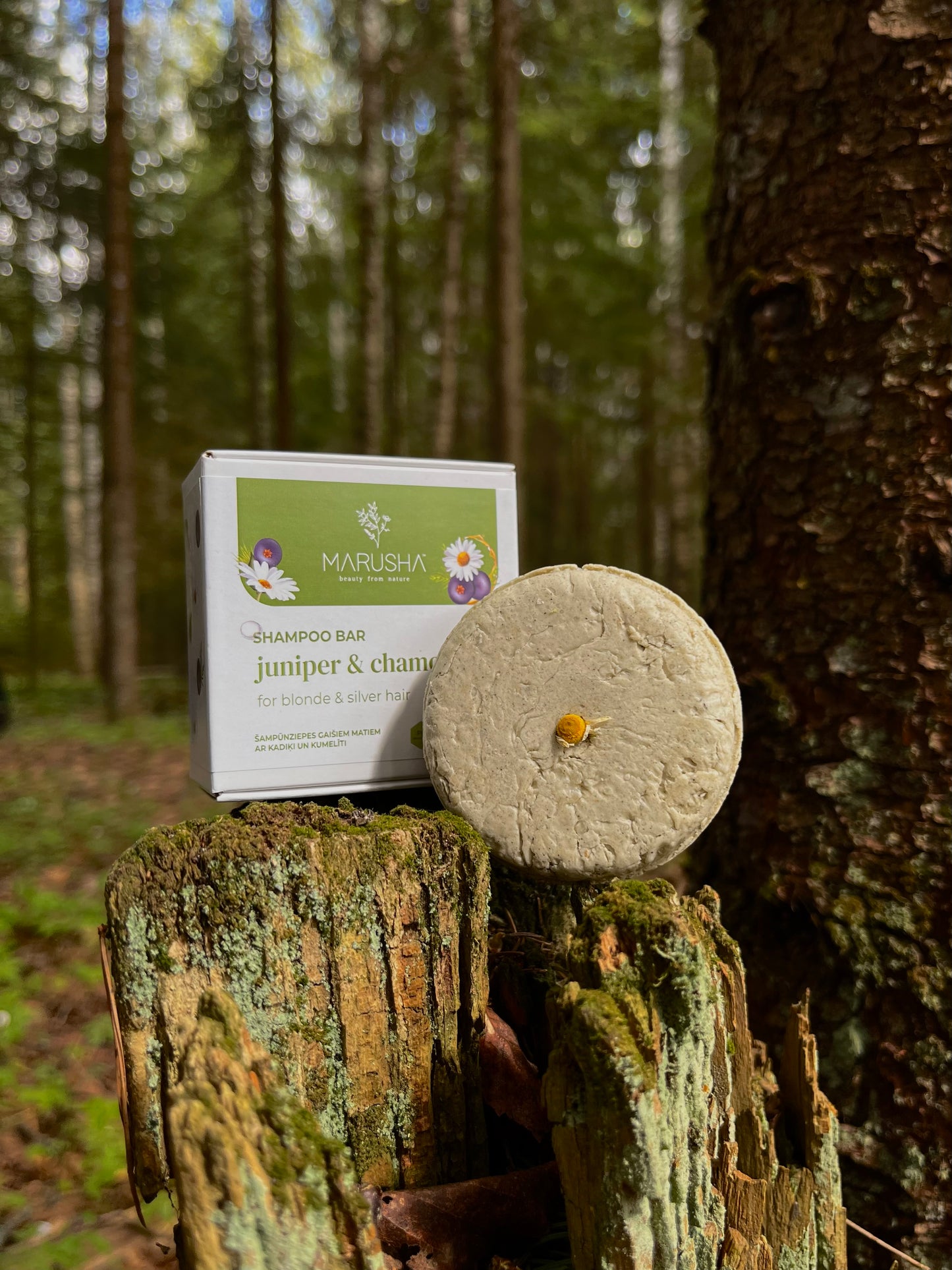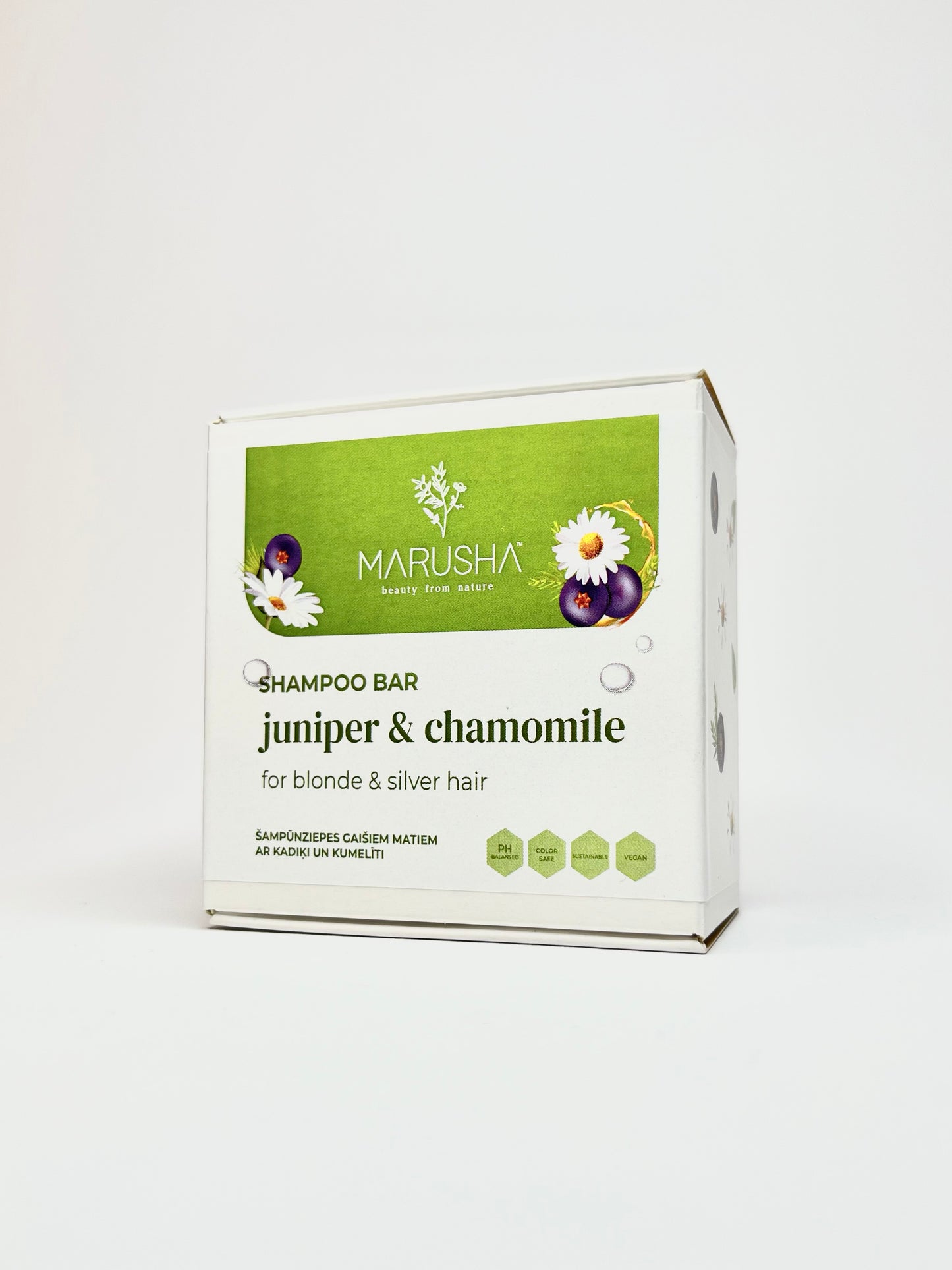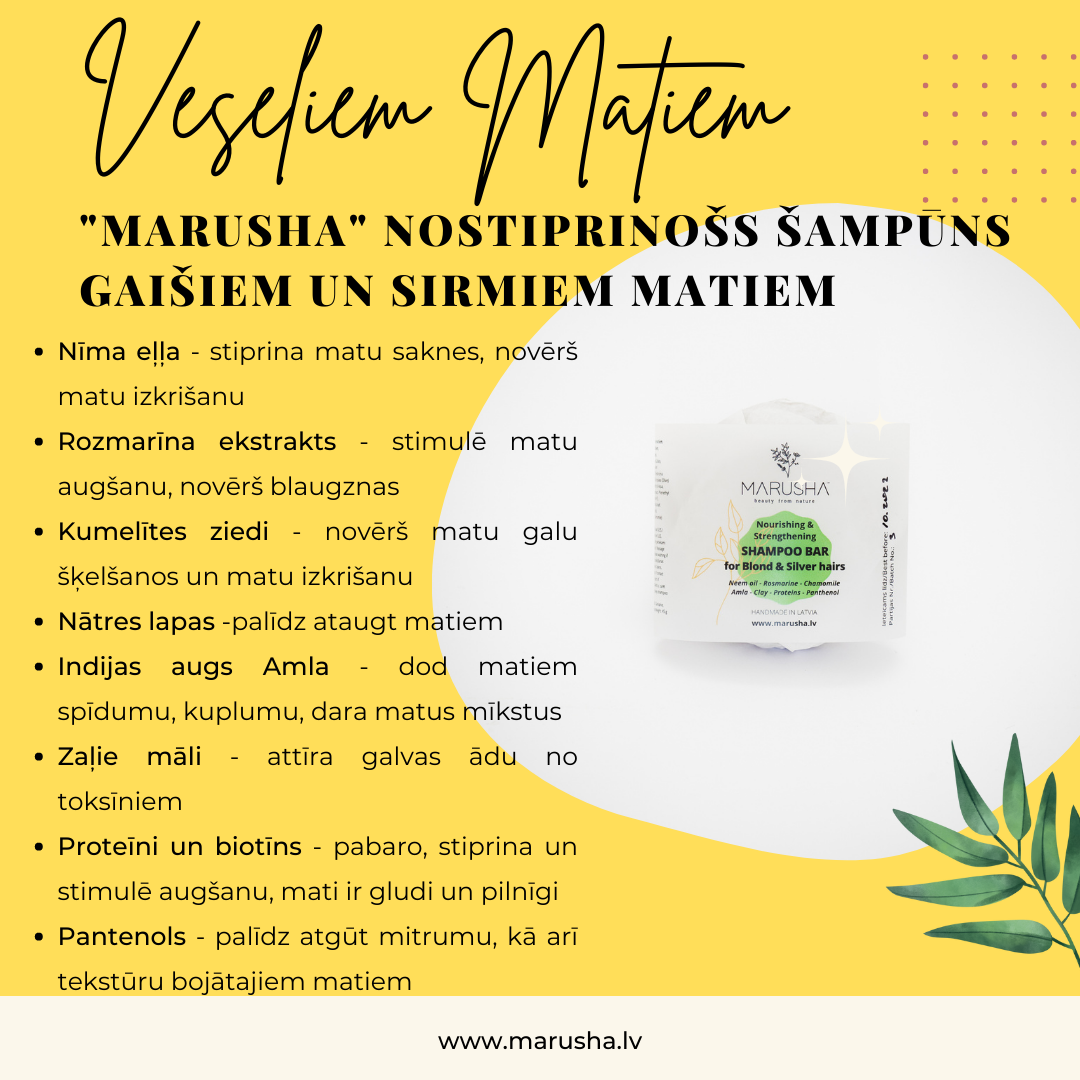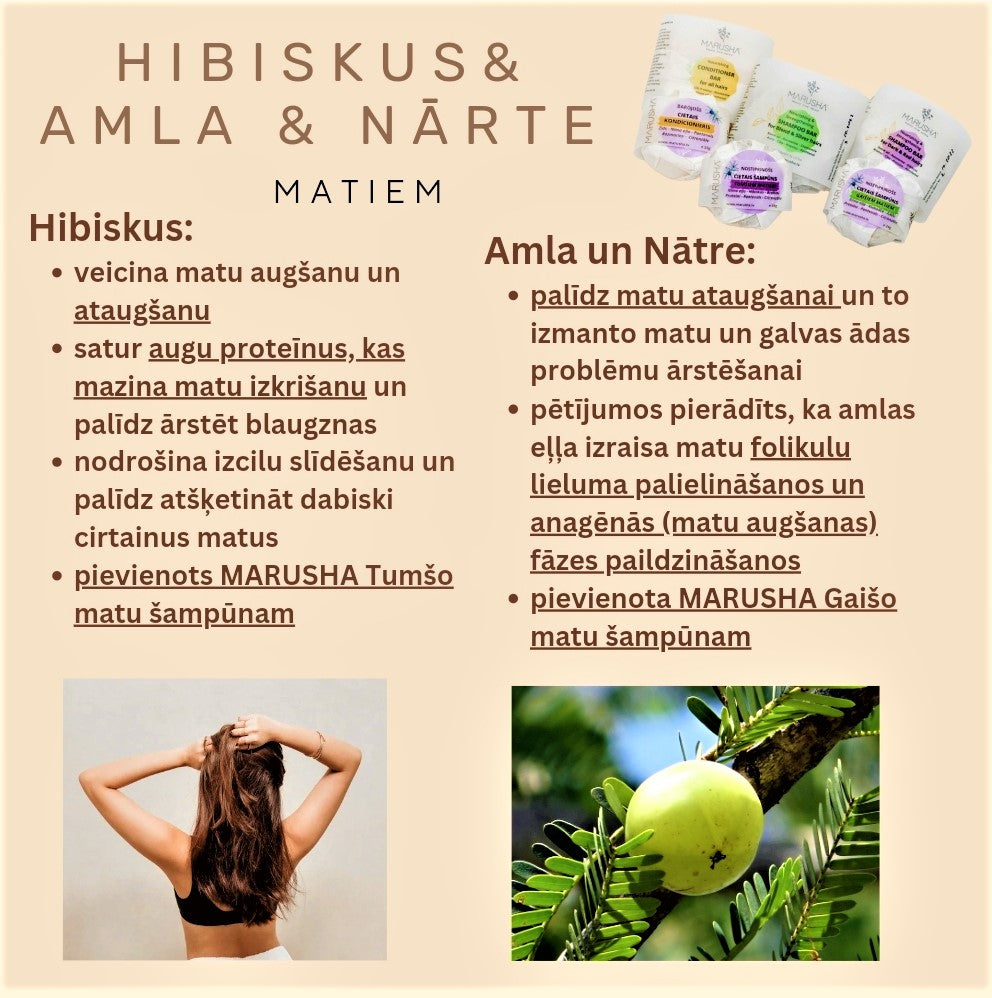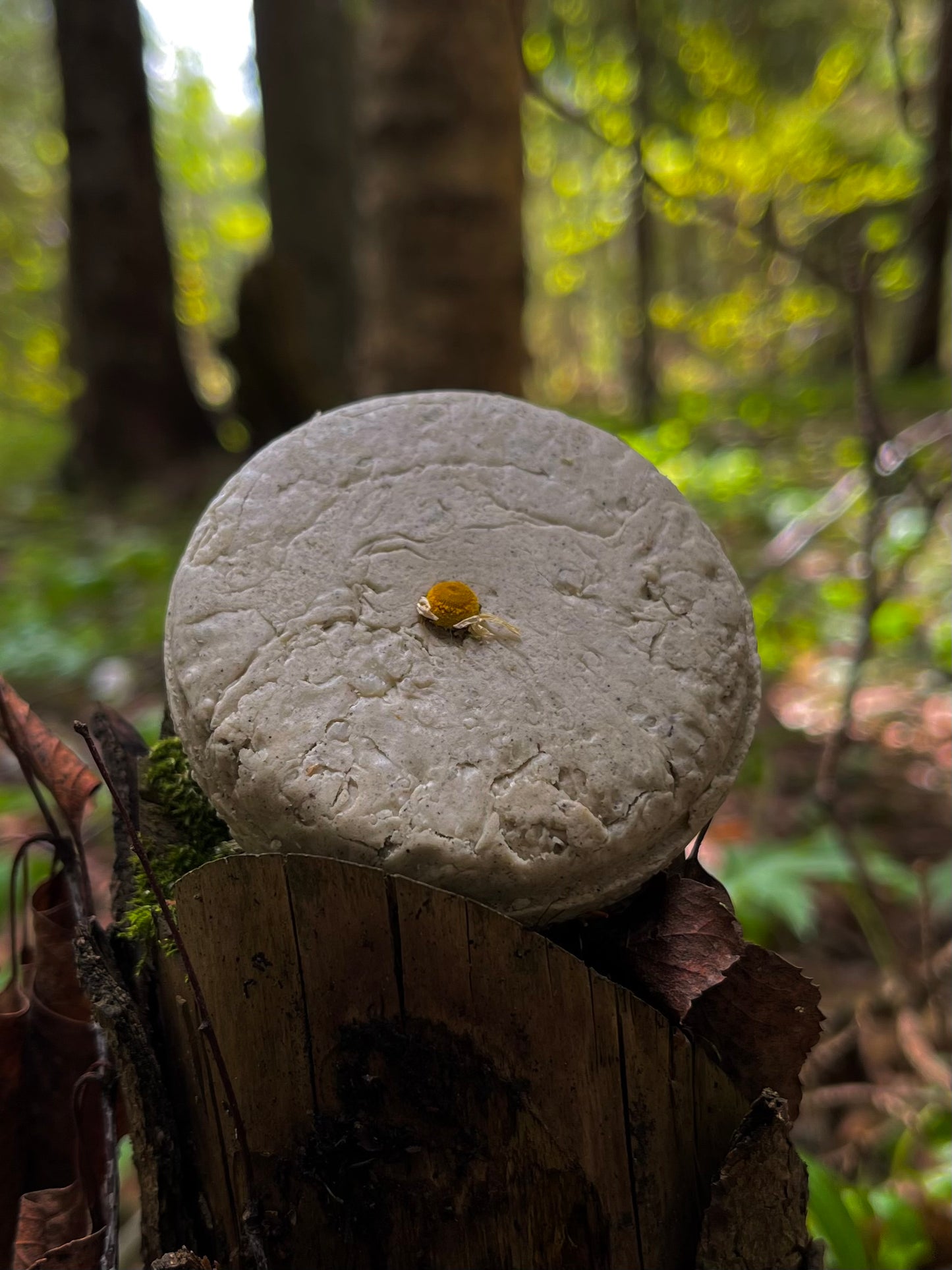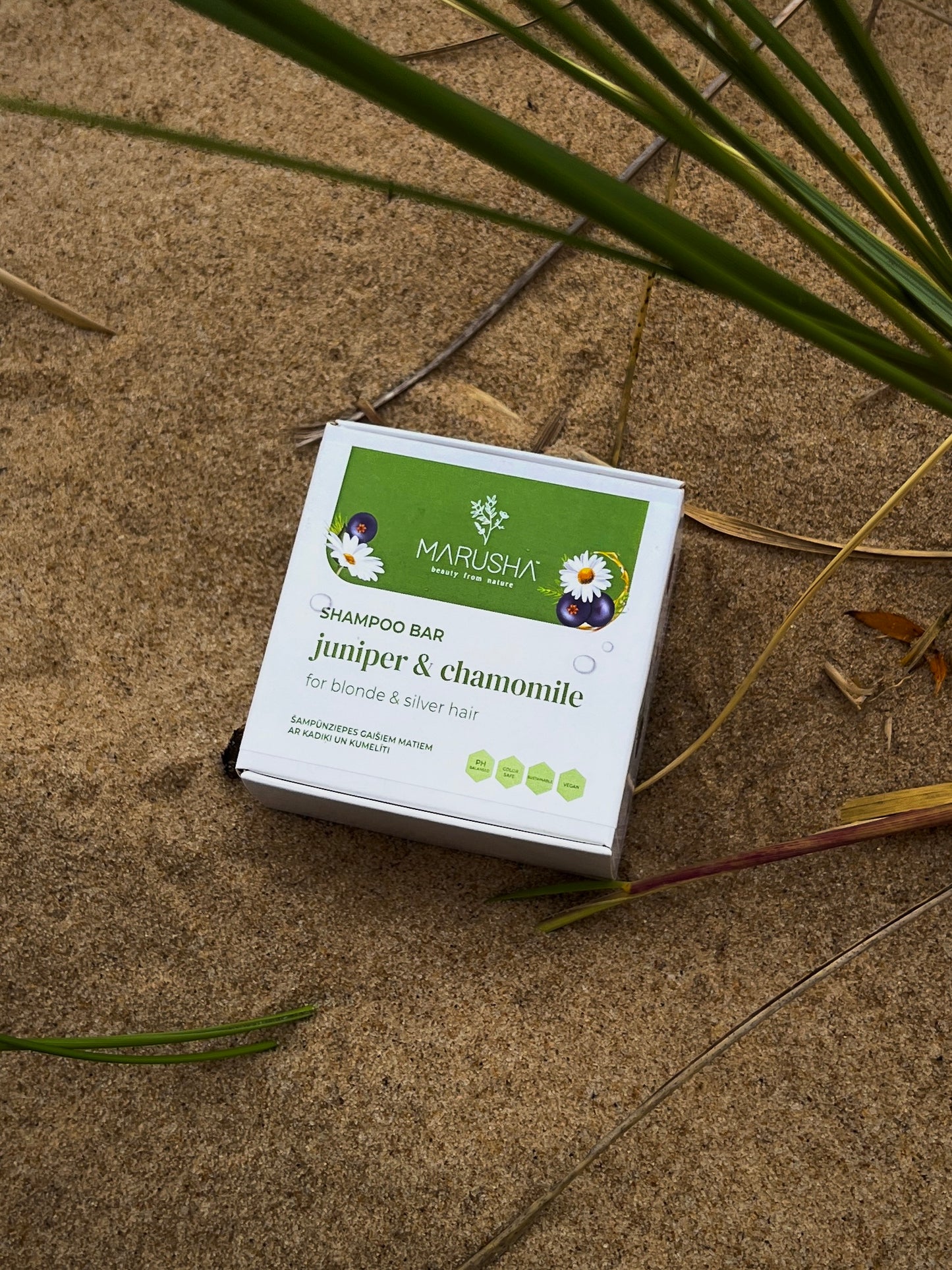 Juniper Solid shampoo bar with Chamomile for Blond hair
Juniper Solid shampoo bar
Ļoti patīk gan smarža., gan efekts. Pirmais Eko šampūns pēc kura izskalošanās mati nesalīp un neķeras. Ir slideni un viegli.
Labi smaržo, mati mīksti
Ļoti patīk, kā smaržo. Daudz dabīgu sastāvdaļu. Mīksti, viegli mati.
Cietais šampūns gan ceļojumiem, gan ikdienaii
Patīkama smarža, labi puto, un mati viegli ķemmējas
Ļoti ērti lietojams šampūns. Mati mīksti, nepūkojas, viegluma sajūta pēc mazgāšanas(man ir dabiski cirtaini un sausi mati, ir pabojāti ar balināšanu un taisnošanu) Maigs kumelīšu aromāts.
Patīk, ka tiek domāts par dabu un iepakojuma gandrīz nav+.
Crafted with a deep commitment to our core values!
We are using only natural ingredients, ensuring maximum effectiveness, and being completely transparent with our customers.