Regular price
€18,30 EUR
Sale price
€17,99 EUR
Unit price
per
Sale
Sold out
Handmade with love

Sustainable & certified

Plant based ingredients
A closer look at the ingredients

Discover the natural goodness in our products here.
Shipping information

Guarantee: 14 day money back guarantee

Free delivery in Latvia for orders over EUR 48.00 and in Europe for orders over EUR 80.00.

Latvia:

We deliver in Latvia through Omniva and DPD parcels and courier. The goods can also be received at the warehouse in Garkalne, Nākotnes iela 30, Ropažu district.
Delivery costs: Parcel - 3.00 EUR, Courier - 8.00 EUR.

Foreign countries:

We deliver to the Baltic States and all countries of the world.
Delivery costs to the Baltic States (Estonia, Lithuania): 5.50 EUR.
Delivery costs to other European countries (outside the Baltic States): from 7.00 EUR.
Delivery costs outside Europe: from 10.00 EUR

We send the goods within 1-3 days! 

More info regarding shipping here.
Have a question?

Don't hesitate to reach out to us for any queries or concerns. For a quick question you can find information at our FAQ here.
For more information contact us using our contact form.
Medicinal Hair Treatment oil with Rosemary, Neem and Amla extracts for hair growth. Clinically proven effectiveness.
Rosemary, Neem and Amla extracts stimulate hair growth, reduce hair loss, regrow natural hair, strengthen hair roots and restore damaged hair.
The product has received the nomination "European Natural Beauty Awards 2023".
MARUSHA Hair oil intensively promotes hair growth, increases the number and density of hair, nourishes, revives and moisturizes dry and damaged hair, hair roots and hair ends, restores hair shine and volume, prevents hair splits and frizz, ensures a healthy, nourished and moisturized scalp.
Dermatologically and clinically tested hair and scalp rejuvenating oil with proven effectiveness in hair growth, strengthening hair roots, increasing the number of hair and ensuring a healthy scalp. Test results are described below.
Use of rosemary hair oil
Use hair oil at least once a week, preferably twice a week. Apply 8-10 drops to the palm of your hand or directly to dry scalp and hair, then massage into scalp, length and ends.
Leave the oil on for at least 1 hour and then wash it off with shampoo and conditioner.
This hair oil is also used for preventive purposes, i.e. massage 1-2 drops into problem areas of the scalp and leave it (do not wash).
CAUTION: Avoid getting the hair oil in the eyes. If the oil gets into the eyes, rinse the eyes with running, cool water.
If you use rosemary hair oil regularly at least 1-2 times a week, your hair will grow back in 90 days. 100% natural hair growth promoting and hair volume increasing agent without side effects.
A concentrated mixture of the most effective natural extracts and hair oils, which should be applied from 8-10 drops at a time. In order for the hair to grow more intensively, it is recommended to apply 1-2 drops daily (prophylactically) on thinning areas.
Hair oil contains natural Rosemary, Neem, Amla extracts and hair oils with proven effectiveness - reduces hair loss, increases the density of hair follicles, helps fight baldness and scalp problems (itching, dandruff, redness).
Hair oil helps dry and split ends and dry scalp by nourishing and moisturizing them. Hair oil is also suitable for sensitive, dry, red, problematic skin. Added extracts normalize sebum secretion.
Can be also used as a scalp oil, oil for hair ends, beard growth oil.
The oil washes off easily with shampoo. Hair and scalp are not greasy after use.
Results of using medicated hair treatment oil
Results of clinical tests: MARUSHA Rosemary and Neem hair oil shows the following results to its user after 3 months of regular use (Clinical research Instrumental tests and trichoscopy of the product):
In 4 out of 5 cases, hair oil promotes hair growth, regrowth and hair regeneration
In 4 out of 5 cases, the total number of hairs increases by 21% (we have also added photo fixations before and after use of hair oil)
In 4 out of 5 cases, the amount of hair increases by 21%
4 out of 5 cases increase the number of follicular units by 11%
In 4 out of 5 cases, the hair oil increases the average amount of hair growing from 1 follicular unit by 9%
helps visibly reduce dandruff after regular use (pictures attached).
Hair oil with valuable Rosemary oil nourishes, moisturizes, strengthens and smooths hair, making it healthy, shiny and easy to comb. The oil spreads easily in the hair without weighing it down.
Customer experience - how to regrow hair in 3 months with MARUSHA Rosemary hair oil and how to use hair oil.
What are the benefits of clinically proven natural cosmetics?
Studies have shown that applying Rosemary oil 2 times a day to critical areas of the scalp gives the same result in promoting hair growth as using the hair growth preparation 2% Minoxidil.
MARUSHA Hair Oil In vivo tests results and reviews from end users:
95% of users claimed that hair and ends look more nourished after using the product,
90% of users claimed that hair and ends look much more hydrated after using the product,
85% of users said that their scalp looked more nourished after using the product and 79% of users said that their scalp looked more hydrated after using it,
85% of users claimed that the product reduces scalp itching and unpleasant discomfort,
85% of users claimed that the product reduces scalp redness (redness),
74% of users claimed that the product prevents dandruff.
Hair oil suitable for all hair and skin types, safe for colored hair.
Hair oil is especially recommended for dry, thin, brittle, thinning, chemically or sun-damaged, split ends and ends to restore health and shine. Hair oil protects hair from heat and chemical damages during hair styling and also lift the hair roots.
In vivo tests prove that using MARUSHA hair treatment oil significantly improves the appearance of the scalp and significantly reduces dandruff in three months.
MARUSHA Hair oil can also be used as a hair mask, as a head massage oil and as a scalp rejuvenator, nourishing hair oil. Hair oil also prevents itching and redness of the scalp. It does not contain preservatives and synthetic fragrances. We produce our hair oil in Latvia with our own hands in a family company in Ropažu district.
The good properties of MARUSHA hair oil
Research shows that rosemary oil is as effective as Minoxidil in promoting new hair growth, preventing hair loss. Rosemary helps against early baldness and dandruff.
Research shows that peppermint essential oil increases the number of hair follicles, induces a rapid anagen (hair growth) phase and increases hair length.
The ancient Ayurvedic remedies – Amla oil – are added to the hair oil. Amla is used for hair regrowth, hair and scalp problems.
MARUSHA treatment hair oil with rosemary:
nourishes, strengthens, moisturizes and promotes thick hair growth and regrowth

stimulates the growth of hair follicles, increases the amount and density of hair

prevents hair loss, dryness, split ends

nourishes dry, sensitive scalp, relieves itching and redness

prevents the formation of dandruff, effectively reduces dandruff

improves the health and appearance of the scalp and hair

gives hair fullness and shine
Studies have shown that Amla oil prevents premature loss of hair pigment and dry scalp, reduces hair loss, improves the overall appearance of hair.
It also contains coconut oil, which gives shine to the hair. The abundantly added olive oil provides moisture to the hair and protects it from the adverse effects of external conditions and the environment (sun, wind, chemical treatment, blow-drying, etc.).
Ideal oil for dry hair ends, very damaged hair, for daily hair care.
Read more about the ingredients of Marusha natural products and their meaning in the "INGREDIENTS" section.
Recommendations for daily use of hair oil
Hair oil can also be used daily for preventive purposes, by gently massaging 1-2 drops into problem areas of the scalp. It will give the hair additional nutrients and stimulate its growth.

It is recommended to apply 1-2 drops in wet hair after washing, so that the hair is not dry and is nourished.

To get a beautiful hair color and a healthy scalp, apply hair oil and keep it for 1 hour before dyeing your hair, then wash it with shampoo before applying the dye.
We also recommend using the Hair Massage Comb and MARUSHA Juniper Solid Shampoos and Conditioners, which contain natural vegetable oils, natural cocoa butter and shea butter, plant extracts, minerals and vitamins necessary for hair growth. MARUSHA Solid shampoos do not dry out the hair, because the natural ingredients in their composition restore their health, strengthen hair roots, give hair shine and volume.
Ingredients of Marusha Hair Oil
Ingredients (INCI): Cocos Nucifera Oil, Juniper berries Infused Olea Europaea (Olive) Fruit Oil, Brassica Campestris Seed Oil, Sesamum Indicum Seed Oil, Emblica Officinalis (Amla) Fruit Extract, Vitis vinifera (Grape) seed oil, Rosmarinus Officinalis (Rosemary ) Leaf Extract, Persea Gratissima (Avocado) Oil, Ricinus communis seed oil, Azadirachta indica (Neem) seed oil, Glycine Soja Oil, Calendula Officinalis Flower Extract, Tocopherol, Helianthus annuus seed oil (Tocoperol), Rosmarinus officinalis leaf oil, Mentha piperita leaf oil.
Interesting articles on our blog about treatment hair oils:
Share
View full details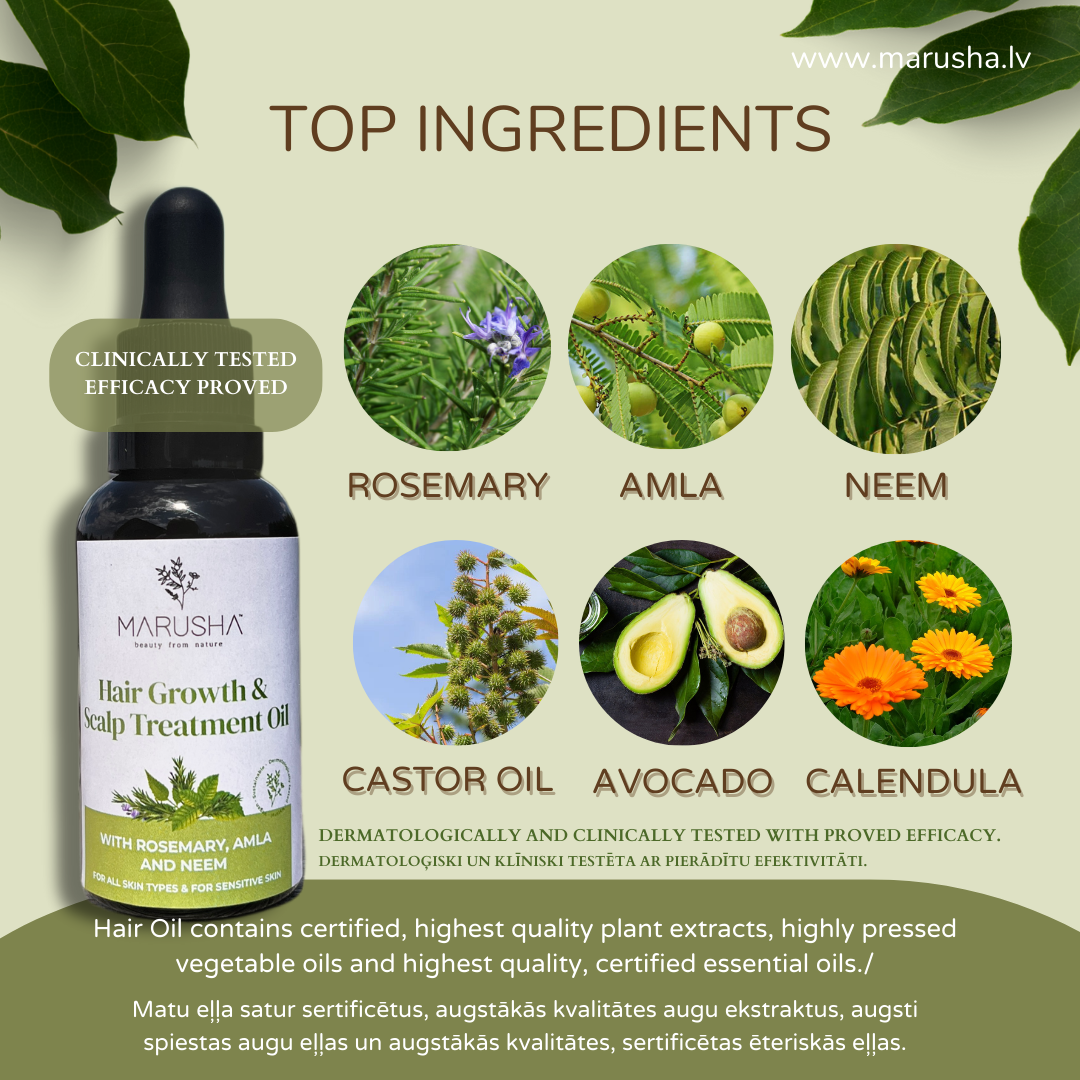 Hair growth treatment Oil with Rosemary
Paldies par produktu! Liekas ļoti labs, lai gan neilgs laiks ir pagājis kopš saņemšanas un lietošanas brīža. Esmu lietojusi regulāri, dažas reizes šo eļļu matiem, kas man patīk, jo eļļa nav tik bieza, un labi izmazgājas. Mati paliek mīksti un viegli pie saknēm, tai pat laikā pabaroti un stiprināti. Viennozīmīgi, turpināšu lietot ilgtermiņā, jo paliks tikai labāk un labāk! Efektīvs sastāvs un galvenais, ka dabīgs produkts par demokrātisku cenu. Lieliski!
Labais
Riktīgi labs, mati mīksti un spīdīgi,m
Hair growth treatment Oil with Rosemary
Ļoti labs produkts. Pasūtīju 30 gr, nebiju pārliecināta vai maniem matiem patiks. Taču ar pirmo lietošanas reizi mati palika mīkstāki, ļoti labi izskalojas. Kas man bija svarīgi - neatstāj taukainu matu sajūtu, bet svaiguma sajūtu. Smarža arī ļoti patīkama. Super! Mani mati pēc dabas ir raupji un biezi. Nav krāsoti vai bojāti. Mati izskatās veselīgāki. Par augšanu grūti spriest, lietoju tikai pirmo mēnesi. Noteikti pasūtīšu vēl. 👍
Hair growth treatment Oil with Rosemary
Crafted with a deep commitment to our core values!
We are using only natural ingredients, ensuring maximum effectiveness, and being completely transparent with our customers.